Athletic flooring needs to stand strong against constant and consistent wear and tear, all the while maintaining any special markings or logos that might define it. Not just any flooring installation in Oklahoma City, Mustang, Union City, or Moore, OK will do! It takes a thorough installation of quality products by professionals who understand the rigors your new floor is bound to face.
Wood flooring is generally used for gyms and event centers because they host a wide variety of activities that are enhanced by wood. Wood has acoustic qualities for sound, it's resistant to intense wear and it holds a certain prestige that makes it simply beautiful.
Any Type of Athletic Floor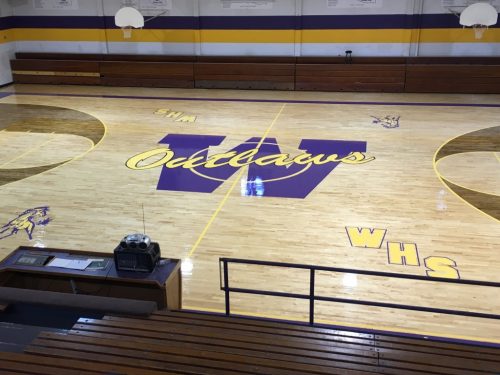 Whether your school needs new multipurpose gym flooring laid down or your athletic center is putting in new basketball courts, give us a call for hardwood installation in Oklahoma City, OK. We'll assess the scope of the job, remove any outdated flooring and provide a complete installation of the highest caliber, including pristine finishing services.
We have experience installing athletic wood flooring in public schools, private schools, colleges and universities, as well as halls and churches that may use gym flooring for event hosting, such as concerts or social events. Some of our most reputable projects include:
Oklahoma State University
Southeastern Oklahoma State University
Northeastern Oklahoma University
Northwestern Oklahoma University
Oklahoma City University Wanda Bass Music Center
Oklahoma City Civic Center
Branding & Marking
While other flooring providers may offer flooring installation, not every business is equipped to provide the branding and marking services that Thompson Floor Company does! We'll gladly deliver the finishing touches to your flooring, to add the sport regulation lines, team logo, and other graphics that make your court stand out beautifully and get it ready for game time.
Looking for a quicker, more affordable solution to marking your athletic court? We also offer synthetic gym flooring designed to include the lines, logos and graphics that are typically seen on athletic surfaces like basketball, tennis or racquetball courts.
Get Ready for Game Time
Planning a new athletic floor renovation? Don't wait to contact the leaders at Thompson Floor Company to begin discussing your new gym flooring, hardwood installation, or wood floor repair project. Reach us today at 405-376-1030!